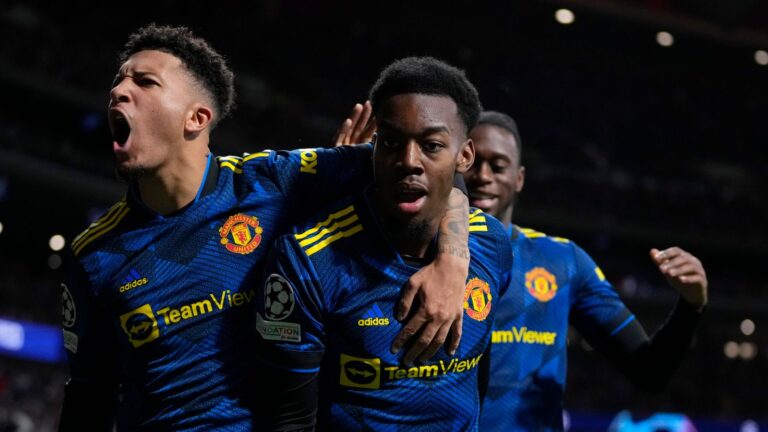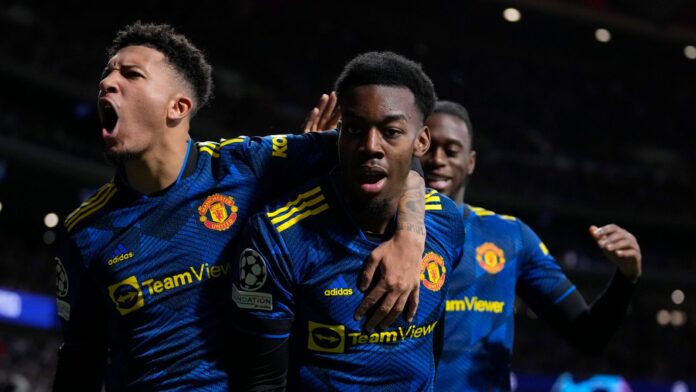 [ad_1]

Ralf Rangnick has urged his Manchester United players to follow the example set by teenager Anthony Elanga after the substitute rescued a 1-1 draw against Atletico Madrid in the Champions League last-16 first leg on Wednesday.
It was a draw United scarcely deserved in the Spanish capital as they again underwhelmed, but teenage substitute Elanga cancelled out Joao Felix's early bullet header to secure Rangnick's men what could prove to be an important draw.
The interim manager may, in truth, have been satisfied to leave Spain with a narrow first-leg loss given the fact his side floundered for much of the night.
Speaking to BT Sport afterwards, Rangnick didn't hide his emotions as he admitted some of the more senior members of his squad needed to demonstrate the same courage and urgency as Elanga, who celebrated just his third goal for the club.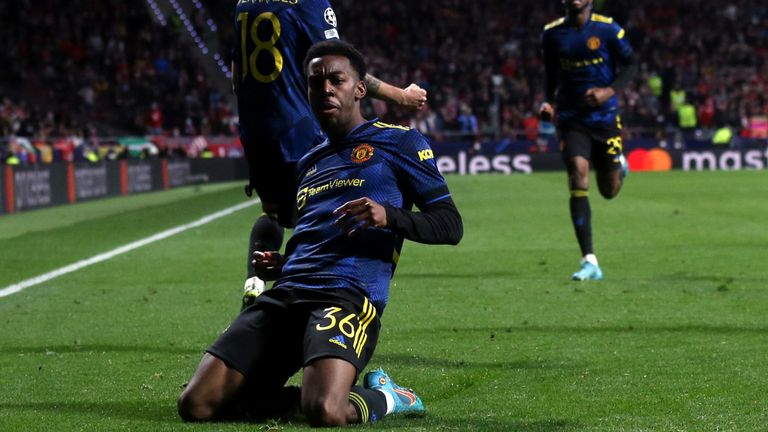 The German said: "He is playing as though it is a dream come true, it is a joy and fun to watch him play, I wish a few other players would take him as an example and as a role model. Football is an important sport, even more so for the supporters, and it is a ball game. This is what I wish us to do especially in the second leg."
Speaking later in the press conference, Rangnick added: "Anthony, in all the games that he has played so far, just shows that he's playing with all the passion, all the fun and all the joy," Rangnick said.
"He's just enjoying himself on the pitch and he's fully aware of his strengths, his assets, his weapons. He's always trying to play and show those weapons. This is what he did again today.
He is playing as though it is a dream come true, it is a joy and fun to watch him play. I wish a few other players would take him as an example and as a role model.
"Not only the goal he scored, he had two or three great runs and whenever he did that you could all of a sudden see that Atletico had problems with this kind of approach. But we have to show that on other positions as well, so not only with Anthony Elanga or one or two other players.
"We just have to play like that on every single position and if we want to proceed to the quarter-finals in a couple of weeks at Old Trafford we have to play exactly like that."
Rangnick started Victor Lindelof in an unfamiliar right-back role only to replace the Swede with Aaron Wan-Bissaka midway through the second half.
He said: "To start with, we could do with him in aerial duels, set-pieces, free-kicks for and against us. All three centre-halves were in good shape, but after seven minutes we were 1-0 down the plan was in the dustbin.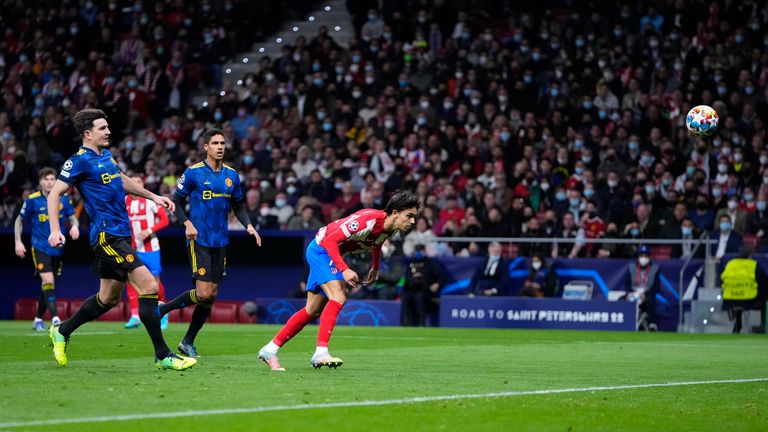 "I knew this was not his best position. When we had Aaron Wan-Bissaka on the ball and Alex Telles, we had more possession and more assistance from the wings. In the end, due to the early goal it was difficult.
"In the second half we showed in quite a few moments how we have to play. It will be different at home in front of 75,000 fans and [with] more conviction than we did in the first half."
With his team struggling to break down Atleti's compact defensive lines, Rangnick made four substitutions, replacing Paul Pogba and Marcus Rashford with Alex Telles and Elanga, who came up with the equaliser.
Atletico substitute Antoine Griezmann nearly grabbed a late winner for the hosts but his shot from inside the box hit the post.
Rangnick added: "I don't know if I rescued it but after the performance in the first half, it could only get better. What we played in the first half I still cannot believe.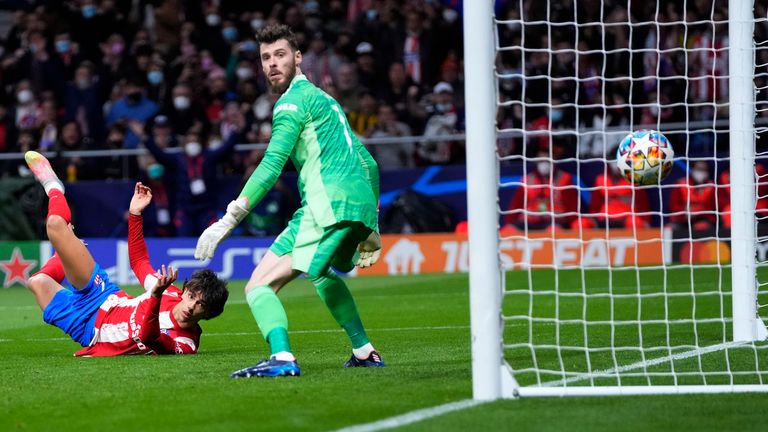 "We played without conviction, without aggression and that is why we were struggling. Second half we did better, more possession in areas that mattered and if we played another 10 minutes we might have won the game.
"We have to play better in the first half, I was very disappointed by that performance in the first half.
"Against and with the ball we were far too apprehensive and did not take any risks. We only played it in our own half and then it is difficult against a team like Atletico. Their goal was difficult to defend, a brilliant cross and finish. We have to play with more conviction on the ball, we need more deep runs and the way we scored the goal was exactly that. This is how we have to play against them."
Elanga: I want to be best player on pitch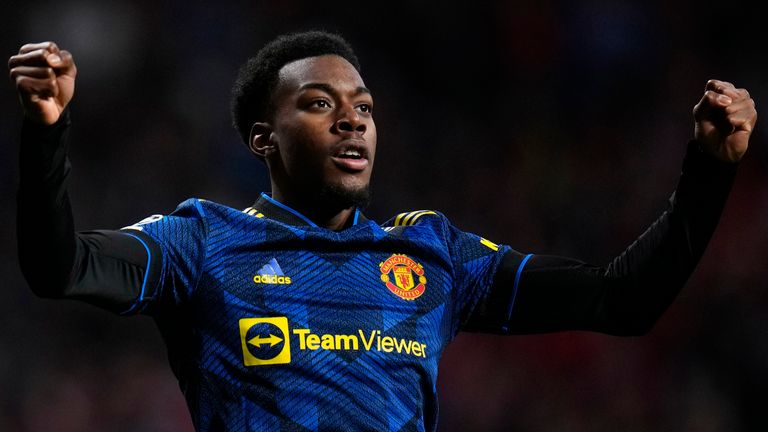 Man Utd goalscorer Anthony Elanga told BT Sport:
"Think it was my first touch as well. I have dreamt of moments like this, scoring in the Champions League against top European teams like Atletico Madrid, a dream come true. It is only first half, we have to be ready for the second half at Old Trafford.
"I told you how calm and cool I am and whenever I am given a opportunity I want to repay the manager and give 150 per cent every time I step onto the pitch. I just do what I can do, I want to be the best player on the pitch and I appreciate the boss.
"You've got to stay in the game, anything can happen. We did not play the best in the first half, but improved after the substitutions in the second half.
"He (Ralf Rangnick) said to me to make the defenders scared and run in behind. When I get the opportunity to take it. I wanted a good result for the fans because they came a long way."
What's next?
Manchester United host Watford in the Premier League on Saturday at 3pm while Atletico Madrid are at home to Celta Vigo on the same day at 8pm in La Liga.
The return leg takes place at Old Trafford on Tuesday March 15 at 8pm.


[ad_2]

Source link