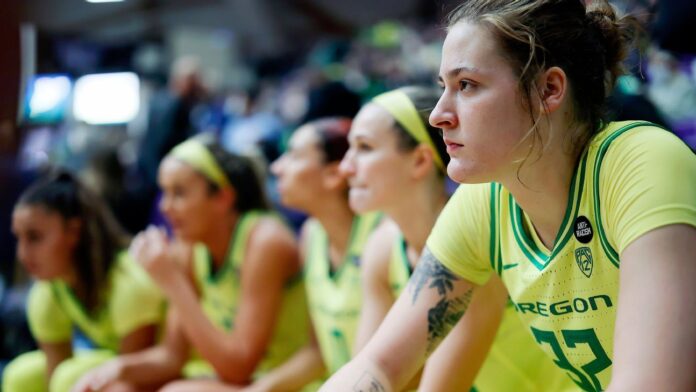 SEDONA PRINCE WAS ANGRY and hurt when she first saw the workout equipment the NCAA provided to the players at last year's women's basketball tournament.
The lonely set of dumbbells and meager stack of yoga mats amid a cavernous unused space inside a San Antonio convention center looked like the same type of disrespect that female college athletes had been battling for nearly half a century and an apt metaphor for the untapped room to strengthen and expand the women's college game. For Prince, it also looked like an opportunity.
"That moment at the tournament I was like, 'Oh my god, this is right in front of my eyes,'" Prince said one year after her viral video shined a bright, embarrassing light on the differences between the men's and women's basketball tournaments. "I can make this happen. I can make change."
She was right.
In the past year, marketing specialists and endorsement companies eager to cash in on the new market of name, image and likeness deals in college sports have been busy deriving formulas to calculate the financial value of an athlete's social media content. Prince's millions of online followers (3 million and counting on TikTok alone) have made her one of the market's most-coveted young influencers and expanded the reach of a platform she uses to advocate for equality in multiple ways. She didn't profit from last March's weight room video, which posted before new NIL rules took effect. But that single social media post has the potential to shift more bank accounts and bottom lines than any other. It already triggered significant investment in women's college basketball — and it could lead to even more.
The 118-page report that the NCAA commissioned to review its gender equity problems in women's basketball last year begins by calling Prince's post "the contemporary equivalent of 'the shot heard round the world.'" Lynn Holzman, who is part of the leadership group that oversees the NCAA's flagship tournaments as its vice president for women's basketball, told ESPN that the outcry and additional examples of inequality that followed Prince's tweet ensured that "the proverbial curtain was pulled back" on the disparity that has remained a persistent issue in college sports.
The NCAA responded this year with a series of initial changes aimed at improving athletes' experience at the women's tournament. They add up to millions of dollars in new investments, according to NCAA senior vice president of basketball Dan Gavitt. Those first steps include:
• Increasing the number of teams in the tournament from 64 to 68
• Using the March Madness brand and logo for the women's tournament as well as the men's
• Creating gift packages and on-site lounge areas that are identical for male and female players
• Adding more signage and other promotional items to create a better atmosphere at game sites
• Increasing cross-promotion between the men's and women's tournaments
Gavitt acknowledged that there is "much more work to be done" to create fairness for the women's game. Substantial and sustainable change will require a thorough examination of the finances and infrastructure of the sport. The report commissioned by the NCAA and completed by attorney Roberta Kaplan recommended roughly two dozen changes that could help move the sport toward gender equity. Money — how it's counted, how it's maximized and how it's used to incentivize new investment in the women's game — is at the heart of those long-term recommendations.
Prince, a redshirt junior at Oregon this season, said she has been encouraged and surprised by the power her words have had so far — a new weight room arrived in San Antonio less than a day after her first post. But she compared the work ahead to having only reached base camp on a climb up Mount Everest. She echoes a general consensus among coaches and fellow players who have formed calluses from years of overpromised and underdelivered tipping points. Most sit somewhere on a spectrum between cautious optimism and caustic skepticism when it comes to the belief that this time the NCAA's efforts will amount to more than lip service to quell the outcry of a public-facing debacle.
"What women have to go through is just a constant uphill battle," Prince said. "It's nice they changed, but if they don't keep making improvements and holding to their word, then this was all for nothing."
History, both recent and otherwise, has taught Prince and her peers that change will come only from persistent pressure.
---
MARYLAND SOPHOMORE ANGEL REESE, her team's top scorer and one of the best young defenders in the game, said she wasn't sure what to expect from her first NCAA tournament last March, but comparing the treatment her teammates received to what their friends on the men's team were experiencing last year felt like "a slap in the face." Reese and other players pointed out publicly that, along with the weight room, the swag bags the women received were meager compared to the men's, the food options were far more limited and the women were given antigen tests for COVID while the men received PCR tests.
Reese said she attempted to point out disparities between the treatment of the boys' and the girls' teams at her high school in Baltimore. With her increased platform, she didn't hesitate to join the chorus of players pointing out the stark differences between the two tournaments when she saw them at the college level.
"I didn't think I could be quiet about it," Reese said. "Having Maryland across my chest, and making a name for myself, it's helped me be able to use my voice more."
Arizona's Adia Barnes and Stanford's Tara VanDerveer — a pair of head coaches from different generations who met in last year's national championship game — agree that the conversation about gender equity is louder and more widespread now than at any point they can recall in the past.
They say a combination of large social media platforms, increased interest in social justice and the magnifying effect of last year's COVID-bubble tournaments has turned up the volume to unprecedented levels. Where once players didn't know how they could speak up, now others like Reese don't know how they could stay silent.
For VanDerveer and Barnes, though, the current conversation and this year's surface-level changes to the tournament will remain underwhelming if a financial shift doesn't follow.
"If only the basics change this year, I'm going to be very disappointed," Barnes said. "If the only change that happens is a new logo and some swag bags and signage, that would not be good."
---
ACCORDING TO THE KAPLAN report, the NCAA spent roughly three times as much money on the men's tournament as it did on the women's tournament ($53.2 million vs. $17.9 million) in 2019 — the last year in which the tournaments operated under normal conditions. Gavitt declined to share estimates of how much the changes to this year's tournament are expected to narrow the $35 million gap between the two budgets, but identical spending isn't the NCAA's goal. The men's tournament has justifiable higher costs due to holding games in bigger venues and hosting its first and second rounds at neutral sites rather than on campus like with women's opening rounds.
However, the Kaplan report found that even after adjusted for additional financial burdens, the men's tournament receives significantly more money than the women's. Coaches like VanDerveer say that the result is an atmosphere at the women's games that lacks the same level of excitement and makes them feel as if they're second-class citizens.
"It's JV versus varsity. It's hot dogs versus steak," she said. "At every level, the commitment is different for the men and the women."
Kaplan identified a number of issues with how money is counted, collected and distributed for the NCAA's tournaments. Her firm's report recommended making several changes that she argued could lead to a better understanding of the women's tournament's true financial value.
The vast majority of the NCAA's annual revenue comes from its media rights agreement with CBS and Turner Sports. (The College Football Playoff is not operated by the NCAA and therefore does not produce any revenue directly for the association.) That contract provided the NCAA with $850 million in 2023, a number that will eclipse $1 billion annually during its eight-year lifespan. In exchange, CBS and Turner own both the broadcast rights for all men's tournament games and the exclusive rights to sell corporate partnerships to sponsors for all NCAA championship events.
According to the Kaplan report, this structure put women's basketball at a disadvantage in two ways. First, the men's tournament is given credit for generating the $1 billion-plus in revenue even though some of that value could be attributed to a corporate partner's interest in sponsoring the women's tournament or any of the NCAA's other championship events. Second, it creates opportunities for only a small number of corporate partners who are willing to pay a steep price to sponsor all NCAA championship events. Other brands that might be interested in paying lower fees to specifically support the women's tournament don't have an opportunity to do so.
Gavitt said that the arrangement for sponsorship rights predates his time in charge, but that in the future the NCAA might be able to carve out sponsorship opportunities for individual sports such as women's basketball and sell them differently. The CBS/Turner exclusive rights won't expire until 2032, and Gavitt said it would be "premature to comment" on whether any of those sponsorship arrangements could change prior to the end of the current deal.
"We haven't sat down with our partners to explore what possibilities could be considered for modification," he said. "There are complications because we do have long-term contracts in place that would need to be honored and potentially negotiated."
A media expert hired by the Kaplan firm also said that the NCAA may not be cashing in on the full value of the broadcast rights for its women's tournament. ESPN was slated to pay the NCAA a little less than $42 million in 2023 for the rights to broadcast the women's tournament and the postseason games of 28 other college sports. Ed Desser, the media expert hired by Kaplan, estimated that the rights to the women's basketball tournament alone could be worth anywhere from $81 million to $112 million by 2025.
The current deal between the NCAA and ESPN was signed in 2011, and Gavitt said the popularity of the women's game and the media marketplace have both changed dramatically since then. That deal expires at the end of the 2023-24 academic year, and Gavitt said the NCAA plans to shop its media rights on the open market and is "certainly bullish and optimistic that we will see a significant increase."
An ESPN spokesperson said: "When the time comes, we will have the appropriate conversations with the NCAA about the television rights agreement."
Barnes and others in the women's sports community think it is imperative that any future influx of money be distributed in a way that incentivizes schools to invest more in their women's teams. In 2023, the NCAA gave $613 million to its Division I members. The money that each school receives is determined by a number of factors. A little more than a quarter of the money ($168 million) is distributed based on how well each conference fared in the previous year's men's basketball tournament.
Those payments have encouraged many conferences to invest resources in building up their men's basketball programs. There are no incentives or awards for schools and conferences that have success in women's basketball or any other sport besides men's basketball.
"That's just business," Barnes said. "You pour resources into things that will help you make more money. Until we have a system set up that rewards our programs with money, we'll continue to have big discrepancies in equality."
A number of reports and commissions have suggested that the NCAA should change its revenue distribution to award success in other sports. Amy Perko, who has advocated for this change in her role as CEO of the Knight Commission, said she has so far been discouraged by the lack of interest from NCAA members on prioritizing a new revenue distribution model. "It's an important piece of the puzzle for a number of reasons," Perko said. "How the money is rewarded emphasizes what the organization values. To say as an organization that men's basketball is the only sport that we're going to provide performance bonuses, that speaks volumes."
Gavitt and Holzman said some of the more significant changes will take years to come to fruition because of the complex nature of existing contracts and partnerships. They both say, though, that they are committed to creating long-term change.
"We have a responsibility to follow through on all this," said Holzman, who was a captain for the 1993-94 Kansas State women's basketball team before starting her career in college sports administration. "Until that occurs, there may be no convincing people otherwise. For our membership and our leadership, this is very personal."
Current players and coaches say they have reason to doubt that the NCAA leadership will remain proactive if they're not pressured by outspoken players and deep-pocketed sponsors in the years to come. After all, they argue, it did take a public shaming a year ago to spur the initial burst of change to rectify some of the issues that had been clear to those inside the game for many years.
Until then, women like Reese and Prince say they'll continue to be on the lookout for signs of inequality at a tournament that is likely to be under magnified scrutiny this year.
"It's not 100% what it should be. It's not 100% equal," Prince said. "We're going to keep fighting and keep using our voices."